Bernhard Heitz (born 1962) suffered 85% second and third-degree burns as a result of his 1997 crash in Edmonton, Canada. Together with his fellow pilot Dr. Fresenius, he had embarked on a round-the-world flight. Dr Fresenius died of his injuries.
Günther Schweser, Executive Manager for the Mayday Foundation, negotiated with the Foreign Office to cover the costs of repatriation to Germany. In addition, we provided legal and medical consultations.
In 1998 and 1999 we enabled Bernhard Heitz to attend the annual conferences for burns victims and their dependants in Edmonton (Canada) and Atlanta (USA), helping him in the post-operative stage towards a successful convalescence and also providing post-trauma care.
Working with the Hamburg Senate, Boberg Hospital and the Hamburg Electricity Supply Company, Bernhard went on to found a support organization for burns victims based on the Canadian model: http://www.phoenix-deutschland.de/.
He is currently living in the USA and has written a book about the flight and his injuries (with a foreword by Niki Lauda).
Pilot Bernhard Heitz wanted to make his dream come true. Together with his friend Harald Fresenius, he set off from Hamburg in a single-engined Mooney aiming to circumnavigate the globe. On the homeward stretch, they crash in a Canadian forest and suffer terrible burns. Harald dies shortly afterwards but this is just the start of a long and painful struggle for Bernhard to rebuild his life.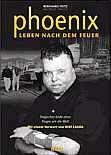 To order a copy:
Together with his sister and doctors, Bernhard describes how, as a victim of severe burns, he slowly regains his independence and, despite disfigurement, retains his optimism and life-affirming attitude.
ISBN: 3-89365-783-5
Heel-Verlag, Königswinter